Dear Mom
Dear Mom,
It has come to our attention that as August slowly moves toward September you are becoming increasingly glassy-eyed and goofy-looking. What's with that weird grin on your face when you turn your page-a-day calendar every morning?
But really, that's not what we wanted to tell you. What we wanted to know is:
Why won't you let us try to kill each other during our various daily rumble sessions? It's a real buzz kill that you won't allow #3 to sit on #4's head and see how long he can go without breathing. It's also a giant downer that you're not allowing us to drop hard pointy things down from the second floor hallway to see if the rest of us can catch it with our heads. You never let us have any fun.
#4 also brought up the question of that large dent (although #2 calls it a wrinkle, the rest of us really think it's much too large to fall into that category) between your eyes on your forehead. It's really come out a lot in the past couple of weeks, and we were wondering if you were going to do anything about it? It makes you look kind of mean. (Not that you're mean….no one is saying that….it's just that crevice is getting really big.)
Finally, even though #1 has said that we shouldn't mention this at all, the fact that you do a lot of mumbling and talking to yourself lately has us a bit freaked out. We noticed that both that huge wrinkle and the talking to yourself really increase later in the afternoon, so we were wondering if we could do something to help you get that under control. Maybe you want to join our marathon viewing sessions of Sonny with a Chance? Or jump in on our squabbles about whose turn it is to play with the PSP next? (We've found that a good ol' fight really relieves some tension. You might want to try it.)
Feel free to wade into that mosh-pit-like thing we've created in the family room if you think it might help. We're here for you.
Love,
This post was prompted by Mama Kat's Writer's Workshop. Want to participate?
Click here: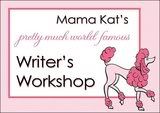 Tags: brothers, children, humor, kids, mother, mothering, parenting, sisters